The Twin Boom inflatable floats can be used for floating of cables, hoses and pipes.
We have different types of inflatable Twin Boom drivers so that in every situation we can offer you a suitable solution, optimum ease of use and maximum buoyancy. The air-filled Twin Boom are made of durable reinforced PVC material and are well resistant to the effects of the sun, sea and oil. They are easy to handle, can be reused and take up little storage space.
Optional are: company print on the Twin Boom, mounting straps on the Twin Boom, other sizes on request and we also supply a Single Booms.
For original Twin Boom floaters you have to go to Dutch Floating Systems, so watch out for poorer quality copycats. Only here you will find the original Twin Boom floaters with warranty certificate, production control and more than 20 years of development and practical experience in our Twin Booms .
Our advantages for you:
1e class PVC, reinforced, airtight fabric
1e klas topkwaliteit Monsun luchtkleppen uit Europa
1e klas bevestigingsogen uit Europa
1e klas productie kwaliteit uit Nederland
1e klas advies door jarenlange aantoonbare ervaring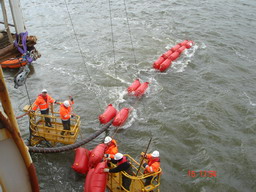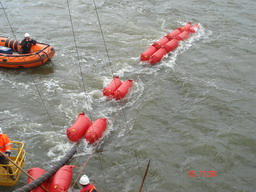 Bij onderstaande projecten zijn onze Twin Booms succesvol ingezet:
NorNed kabel Installatie project
Northwind windfarm kabel Installatie project
Troll A gas platform kabel Installatie project
Lincs offshore windfarm kabel Installatie project
Korea 154kV Power kabel Installatie Project
Halul kabel Installatie project
Nordbalt kabel Installatie project
Burbo Bank UK kabel installatie project
Ras Laffan Qatar kabel installatie project
Vraag hier vrijblijvend uw offerte voor voor onze opblaasbare Twin Booms aan.
Hierboven foto's van het 'NorNed' project. Het leggen van een electriciteitskabel van Noord-Nederland naar Noorwegen. Onze Twin-Boom 600 is gebruikt om in ondiep water de kabel (gewicht ca 100 kg / meter) drijvende te maken vanaf een schip naar de wal. 
Wij leveren ook diverse typen luchtblowers, zoals hieronder aangegeven.
Twin Boom - Luchtblowers:
Uitvoering
Capaciteit
Inclusief
slangenset
Prijs
Benzine
Hoog
ja
op aanvraag
Diesel
Hoog
ja
op aanvraag
Electrisch
Hoog
ja
op aanvraag